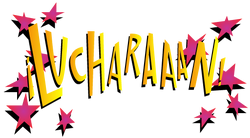 Welcome to the ¡Mucha Lucha! Wiki!
¡Mucha Lucha! Wiki is an official wiki related to the original, hit Kids' WB series, ¡Mucha Lucha!. It is a collaborative and community site that anyone can contribute including you, can build and expand.
Under Construction!
About the Show
¡Mucha Lucha! explores the Latino cultural phenomenon known as "Lucha Libre." The series delves deep into a world where no one removes their colorful mask ever and success depends on having a "signature move." The show follows three mascaritas — Rikochet, Buena Girl and The Flea — who study and live the "Code of Masked Wrestling"… hoping to someday become great masked wrestlers.
The first-ever all-flash animated series on broadcast television, this no-holds-barred comedy combines bold humor and exciting graphic designs in two fast-paced 11-minute episodes.


¡Mucha Lucha! is created by Eddie Mort and Lili Chin and produced by Warner Bros. Animation under the creative supervision of Alfred Gimeno, Joel Kuwahara and Michael Ryan.
Characters
Featured Articles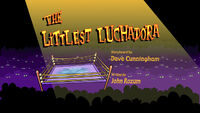 "The Littlest Luchadora" is the second segment of the 4th episode in the second season of ¡Mucha Lucha!. It aired on February 8, 2003, on Kids' WB and on July 2, 2004, on Cartoon Network. Read More...
Need help building out this community?
Affiliates